Commercial
Million of users worldwide are choosing TVersity over all the other home media serving solutions, and critics are doing the same. You can tap this massive user community and the unique TVersity feature set and brand via the following partnership opportunities: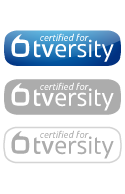 White label solutions for service providers (IPTV, Cable and Satellite).
OEM solutions for embedding in home servers.
OEM solutions for bundling with digital media devices and services.
Branded presence within the TVersity content guide and on devices.
Testing, integration and certification for digital media devices.
To learn more please contact sales.
Commercial License
TVersity offers the standard edition of its media server for commercial licensing. This allows:
Publishers to deploy TVersity on the web and deliver media to mobile devices.
Corporations to run TVersity behind the firewall and deliver media to employee desktops, laptops and smartphones.
The standard and enterprise editions are licensed on a per CPU core basis. The standard edition can run on a single machine and take advantage of multiple CPUs.
| | Basic | Pro | Standard | Enterprise |
| --- | --- | --- | --- | --- |
| Commercial use | No | No | Yes | Yes |
| WAN and LAN security policies | LAN | LAN | WAN | WAN |
| Max # concurrent connections | 30 | 30 | 1000 | Unlimited |
| Load balanced web-farm | No | No | No | Yes |
| Distributed caching | No | No | No | Yes |
| Distributed transcoding | No | No | No | Yes |
| Server side web browser | No | Yes | Yes | Yes |
| On the fly transcoding | Yes | Yes | Yes | Yes |
| Remote access via relay* | Yes | Yes | Yes | Yes |
| REST-full API | Yes | Yes | Yes | Yes |
| Email support | No | No | 1 hour per core | Custom |
| Annual Maintenance** | N/A | N/A | 25% | 25% |
* The TVersity HTTP relay server needs to be licensed separately
** Starting from the first year (includes technical support and bug fixes)
Standard Edition
The prices below are on a per CPU core basis, please purchase a license that matches your CPU core use. The software is available for download here (SE release 2.7, May 1 2014), please contact billing @ tversity.com for a license key.
$1595 - US & Canada
(per CPU core)
€1595 - Europe
(per CPU core)
$1595 - Rest of the World
(per CPU core)



with PayPal




with PayPal




with PayPal
Development, Testing Demos and Trade Shows
If you need to use TVersity for product demonstrations and trade shows and/or development/testing of your product, please purchase a developer license. The license is annual, named to a given user and is on a per computer basis. The use of TVersity in any of the above mentioned settings without a proper license is strictly prohibited.
$179.99 - Annual, named developer license (valid for both Basic and Pro Editions)
with PayPal
You can download the software here.
Content Publishers
Web audio, video and image publishers and aggregators looking to extend their content beyond personal computers and target a rapidly growing user population that consumes Internet content on their TV and mobile phones, can achieve that via TVersity.
Making Internet content available on game consoles, phones and other connected devices, can be easily done by adding the TVersity button next to RSS feeds, and media streams, just like any one of the standard RSS buttons used today on the web.
The TVersity button, like a standard RSS button, will allow users to easily add content to their personal collection or to subscribe to an RSS feed but unlike traditional RSS readers, with TVersity users can access content on their networked device of choice and not just on their PC.
Generate buttons for your content now
We offer a simple form that allows you to generate buttons for your content. You can also use the button markup in your application and fill in the values of the query string arguments dynamically. If you need assistance in creating these buttons please contact us at content at tversity dot com.
Click for the TVersity button generator
Examples
To see the TVersity button in action on an third party website, please visit the G4TV podcasts page at:
http://www.g4tv.com/podcasts/index.html